COMMON PALMS
#1 Adonidia merrillii
Common Name: Manilla Palm
Originating in the Philippines,commonly known as the Dwarf Royal palm or Christmas palm. A very popular small to medium sized palm that looks great along driveways, pathways or as a patio accent. It grows well in coastal areas and up to the 3500 foot elevation.
In stock now
20 gallon 6-7' of trunk 12'+ overall height $425

#2 Dypsis lutescens
Common Name: Areca Palm
The areca palm is one of the most widely cultivated palms in the world. Indigenous to Eastern Madagascar where it thrives in coastal areas and does well up to elevations of 2500 feet. A very graceful clumping palm most commonly used for property borders and privacy screens but it's also quite impressive as a individual specimen in an open area of the landscape.
In stock now!  15 gallon 7' $225
25 gallon 7-8' $265.   Free delivery 7 or more!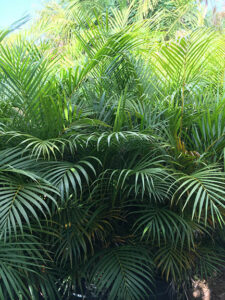 #3 Hyophorbe lagenicaulis
Common Name: Bottle Palm
The bottle palm, A small stout very hearty palm with thick stiff leaf blades and wide bottle shaped trunk can be planted in very windy locations. Thriving with adequate water and good drainage it adapts well to many soil types.Slow growing it can reach heights of 15-20 feet when mature. The bottle palm will do well from sea level up to the 3000 foot elevation.
In stock now
20 gallon 6' $275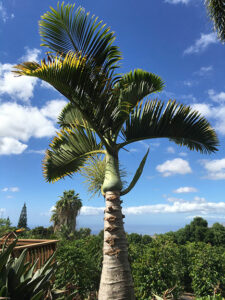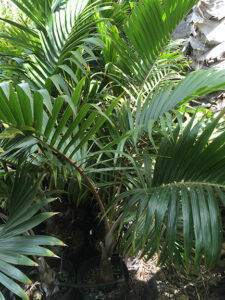 #4 Phoenix roebelenii
Common Name: Dwarf Date Palm
Found growing naturally in Southern China, Vietnam and Northern Laos. This miniature date palm is a popular species used in numerous resort landscape applications. Growing to a max height of 12 feet. A very hearty palm that can be planted along the coastline as well as up to the 5000 foot elevation.
In stock now          Quantity discounts available

20 gallon 3'+ trunk, 5-6'overall height $225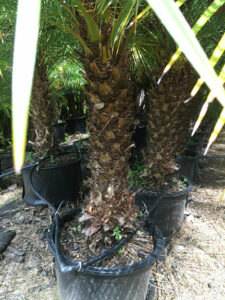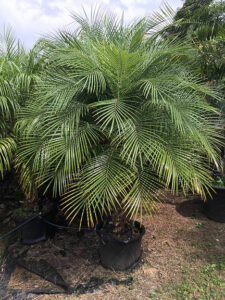 #5 Ptychosperma macarthurii
Common Name: MacArthur Palm
Indigenous to the swampy low lands of Southern Papa New Guinea and northern Queens land Australia. This wonderful palm makes a fantastic tropical looking privacy screen. Also quite striking as a potted patio specimen. A clumping palm that can grow to 25 feet high and 20 feet wide when mature.A slow grower and not finicky about soil type but needs ample water and good drainage to look its best.Plant the MacArther palm from sea level to 3000 feet.
In stock now     Quantity discounts available 20 gallon 8-10' $285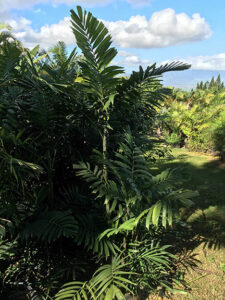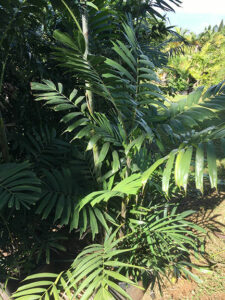 #6 Raphis excelsa
Common Name: Lady Palm
Found growing naturally on limestone cliffs in Taiwan and Southern China at elevations of 2500 feet.A small clumping, bushy palm that looks good and does well as an indoor potted palm. Slow-growing it prefers partial shade when planted in the landscape.
Attractive and very hearty it does well at sea level up to the 5000 foot elevation.

5 gallon  4' $125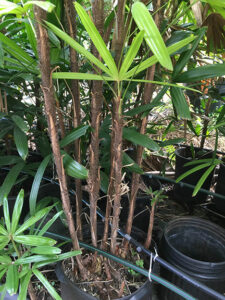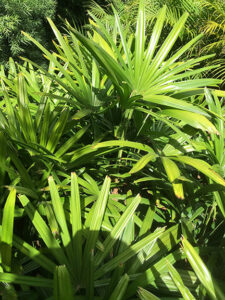 #7 Syagrus romanzoffiana
Common Name: Queen Palm
The queen palm is native to South America. A tall moderate to fast growing palm reaching heights of 50 feet. A marvelous full crown of leaves on a stout trunk looks outstanding lining driveways and avenues. Taking full sun and growing well in most soil types, from sea level to 5000 feet.
In stock now
25 gallon 16'$165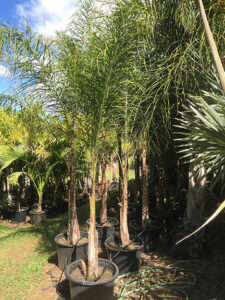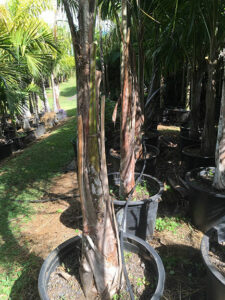 #8 Wodyetia bifurcata
Common Name: Foxtail Palm
The foxtail palm is native to Northern Queensland, Australia. This palm has a very attractive crown of feathery plumose leaves.Planted along a driveway or as a canopy-scape is nearly unbeatable. A very hardy palm that grows fast in full sun with adequate water but slower in the shade. From sea level to 3500 feet the foxtail palm will grow well.
In stock now

15 gallon 3-5' of trunk 10-12' overall height $275
25 gallon  8-10' of trunk 12-14' overall height $450